Located on the 17th and 18th floors, our chic one-bedroom suites surround you with thoughtful comforts and undeniable style.
Floor-to-ceiling windows flood the entire suite with refreshing natural light, while framing stunning views of the stunning Greek Revivalist façade of Quebec's largest church—Saint Roch.
Each of the suites features a fresh modern décor that combines a contemporary comfort with welcoming ease. Kept in fresh white with natural wood, leather, and chrome accents, the overall effect is that of a supremely comfortable, soothing space.
The spacious living room features a sofa bed and plump armchair in black tartan—a perfect spot for a morning cup of coffee and the newspaper. For a touch of color and wit, a custom, whimsical mural represents the Boulevard Charest—the neighborhood's main thoroughfare. Each suite features a 47-inch LCD TV on the wall, as well as a docking station to play music or podcasts while charging your mobile device. If work beckons, the built-in desk and modern desk chair give you a generous space to be productive.
Retreat to the sanctuary of your bedroom where the layered comfort of a king-size bed promises a restful night's sleep. The plush pillow-top mattress is dressed in crisp white linens, topped with a lightweight duvet and plump hypoallergenic pillows. Another 47-inch LCD TV lets you watch your favorite programs from the comfort of bed. Floating bedside tables and high-powered reading lights ensure everything you need is within reach.
The sophisticated bathroom is a study in understated luxury with its elevated square sink, dark gray stone countertop, and smooth granite floors. Pamper yourself in the large European-style shower. Plush bathrobes and fragrant amenities round out the indulgence.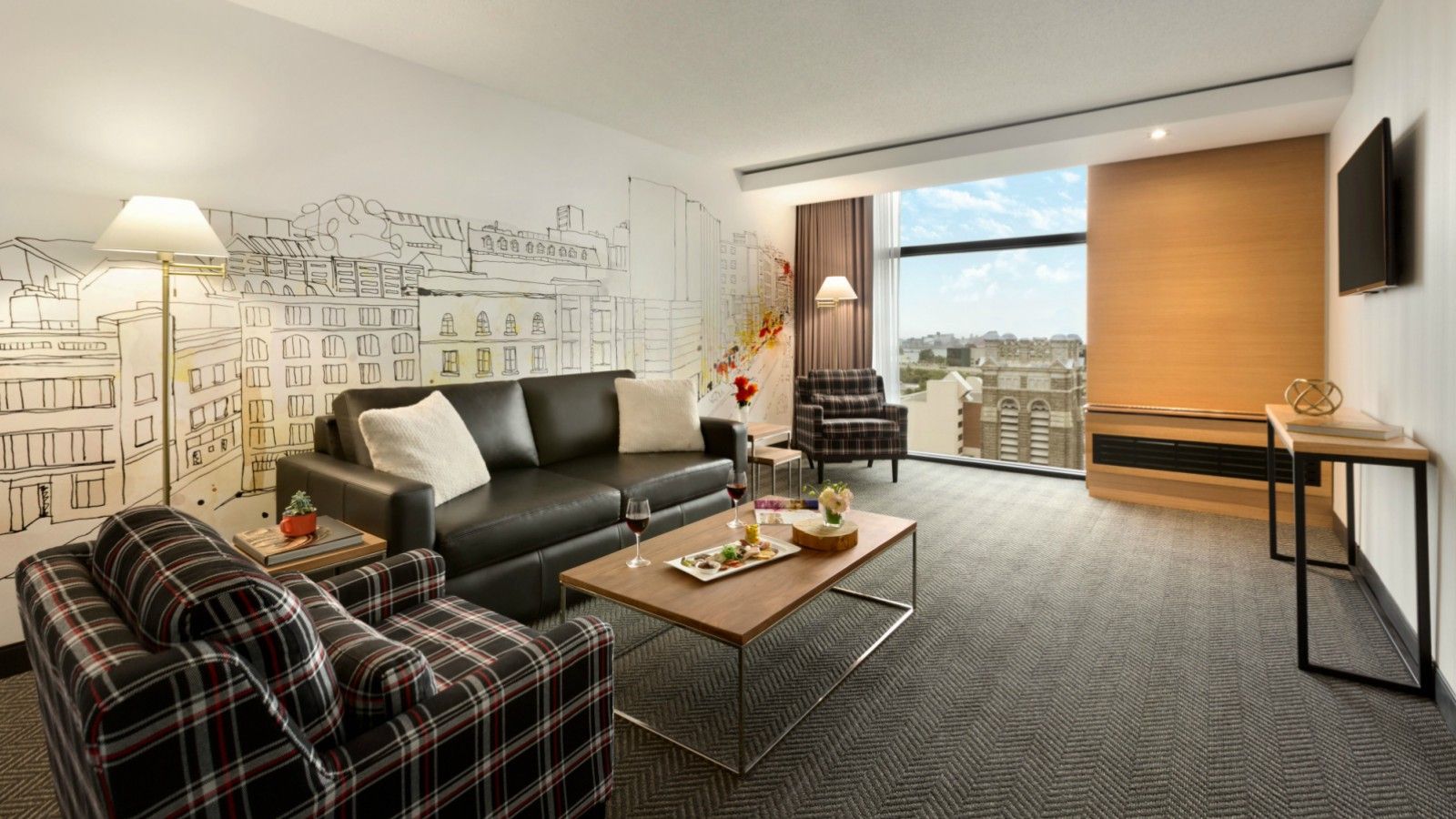 Included with this room
Air Conditioning
Safe
Family Room
Flat Screen Television